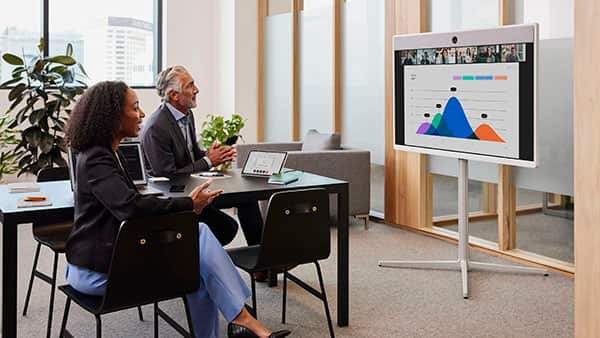 Devices that bring out the best of hybrid work
Video conferencing and collaboration devices for effortless new ways to connect with your team, share your ideas, and express yourself.
Contact for Best Price & availabilty of Webex Collaboration devices
Cisco WebEx Devices Available
Cisco Webex Board 55
Cisco Webex Board 55S
Cisco Webex Board 70
Cisco Webex Board 70S
Cisco Webex Board 85
Cisco Webex Room 55
Cisco Webex Room 55 Dual
Cisco Webex Room 70
Cisco Webex Room 70G2
Cisco Webex Room Kit
Cisco Webex Room Kit Mini
Cisco Webex Room Kit Plus
Cisco Webex Room Kit Plus Precision 60
Cisco Webex Room Kit Pro
Cisco TelePresence SX10 Quick Set
Cisco TelePresence SX20 Quick Set
Cisco TelePresence SX80 Codec
Cisco TelePresence MX200 G2
Cisco TelePresence MX300 G2
Cisco TelePresence MX700
Cisco TelePresence MX800
Cisco Webex Share
Cisco Webex Desk
Cisco Webex Desk Mini
Cisco Webex Desk Hub
Cisco Webex Desk Camera
Cisco Webex Microphone
Cisco Webex Accessories
Cisco Webex Headsets
Cisco Webex Room Phone
India No.1 Preferred Cisco Partner
Talk to Sales 
Call: 97600-50555 or mail@trafficdigital.in
For WebEx Enterprise Plan with 1000 Participants, Visit Cisco Webex Plans
---------------------------------------------------------------------------------------
The Hybrid Workplace is Here to Stay
Do You Have the Right Technology to Support It? Get Cisco WebEx devices !
The rise of hybrid work has transformed everything. Work is now more about what you do, rather than where you do it. Output is the new measure of productivity, rather than time in the office or on the clock. And with many people embracing long-term hybrid work, offices have transitioned to spaces for collaboration, employee engagement, and relationship building.
This Frost & Sullivan whitepaper covers why companies should revisit their existing technology and standardize on the best collaboration solutions available, choosing cloud-based services that address the following:
Flexibility
Inclusivity
Employee wellbeing
Security
Management and control
In this new world, having the right collaboration technology to keep hybrid teams connected is crucial. contact for Cisco WebEx plans and Collaboration devices.